After a brief appearance at Good Things 2018, Australia has been left wondering "When the hell are Babymetal going to do a headline tour?"
The answer? Right now.
The Hordern Pavilion was absolutely teeming with people, well before Babymetal's opening notes rang out. The crowd was a unique mix of kawaii outfits and black tshirts, and many punters had brought along their kids (complete with fluffy earmuffs – safety first). It was heartwarming to see the strong turnout in the U18 crowd, they are the future of metal, and they deserve to be at shows just as much as those 18+.
Opening with a Star Wars homage straight into the double kicker of BABYMETAL DEATH and Megitsune, the crowd was loud, the energy was high, and many were doing their absolute best to sing along with what Japanese they knew. Megitsune's opening drumbeat was so loud it felt like it would rip your chest open (a section of the show that really would benefit from some pyro, just to pull it all together). From the outset, the intricate and phenomenally choreographed dance routines had Sydney absolutely awestruck. While Su-metal's vocals started off a bit shaky at first, Moametal and Momometal didn't miss a beat, and any rocky start by Su-metal quickly melted away.
The showstopper? PA-PA-YA!!. A perhaps unexpected favourite, it had circle pits running throughout, culminating in a wall of death during the next track – Gimme Chocolate!!. Really, we cannot stress enough just how loud the crowd was for PA-PA-YA!!. As a wise Rob Zombie once said about Babymetal; "They roll harder than you".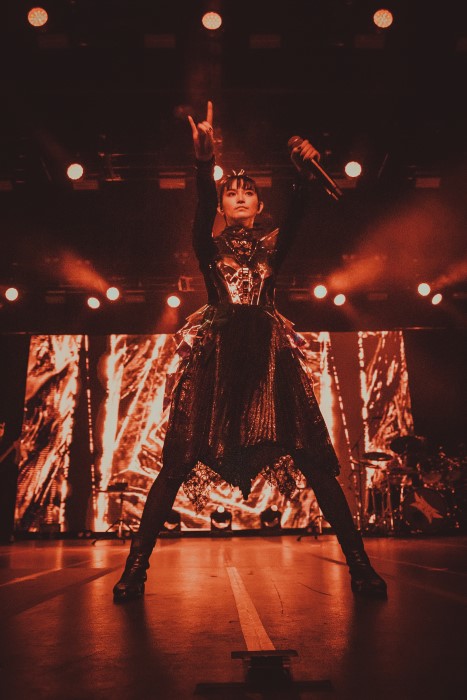 While the genuine smiles on the faces of Su-metal, Moametal, and Momometal showed how glad they were to be performing for us, credit needs to be given to the unsung Babymetal heroes – their backing band. They were as tight as anything, not missing a beat throughout the 14-song set. Masked and standing up the back of the stage, we would be remiss not to mention the anonymous MVPs.
Babymetal's Sydney show transcended boundaries. It transcended cultural boundaries, generational boundaries, and genre boundaries. We entered the metalverse with Babymetal, and none of us came out the same.
Review/Photos – Britt Andrews