Angus Stone's passion project ​Dope Lemon​ will play three exclusive sideshows this April and May, around the Groovin The Moo schedule. The shows are taking place at the ​Fortitude Music Hall​ in Brisbane, the​ Enmore Theatre​ in Sydney and ​the Forum in Melbourne.
In an added bonus, these shows will give devoted Dope Lemons the chance to meet their citrus scented heroes by purchasing a special VIP Meet & Greet ticket. Included in this offer is a GA ticket to see Dope Lemon, the chance to meet Angus Stone himself and grab a selfie, early show entry (secure that primo position!), a VIP tour gift, commemorative lanyard and much more.
Ticket holders can also look forward to a travelling pop-up art exhibition at each show, generated by some very Dope Lemons and curated by the band. Giving the fans a juicy new platform at the show.
Recorded in his northern New South Wales ranch studio Belafonte, ​Smooth Big Cat ​features chill singles ​'Hey You'​ (#84 in triple j's 2019 Hottest 100), ​'Salt & Pepper'​,​'Give Me Honey' and ​'Dope & Smoke'​ which landed at #2 on the ARIA chart upon release in July last year.
Stone played every single instrument on the album, as well as pitching in on mixing and production, proving that the wealth of powers he has spent the last 15 years mastering through his work with his sister via the Angus & Julia Stone juggernaut (not to mention his various solo projects) have turned him into a full blown musical wizard.
In collaboration with his sister, Angus has released four consecutive ARIA Top 10 albums, built a rabid following all over the world and has become one of the most successful Australian artists of the last 30 years.
Their latest album ​Snow ​saw the siblings submit to a gruelling touring schedule which, when completed, had Angus considering his next move. "​It's about tension and release​," he recently explained to musicfeeds.com.au. "​When you pop out the back end of a tour, you either want to just go somewhere and pass out and sleep for a hundred years or you want to get back into it and flex the creative part of your mind​."
Lucky for us, he decided to get flexing as he bunkered down and began working diligently on ​Smooth Big Cat​. A departure from the approach he took with Dope Lemon's 2016 debut ​Honey Bones ​or even his previous solo work (Stone's debut solo effort, ​Smoking Gun,​ was credited to ​Lady of the Sunshine​, whereas 2012's ​Broken Brights​ was released under Angus Stone), the sessions have paid dividends with listeners becoming enraptured with the lazy, addictive grooves that coat Stone's unmistakably intimate vocal talents.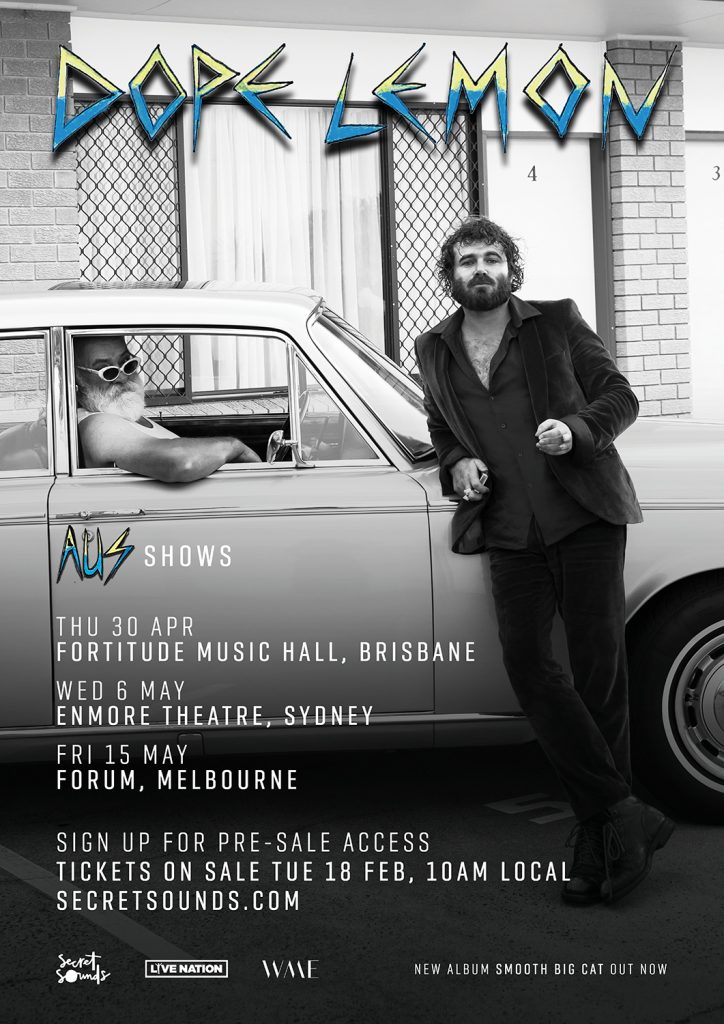 Secret Sounds Present
DOPE LEMON
GROOVIN THE MOO 2020 SIDESHOWS
 PRESALE: 10am Monday 17 February – until – 9am Tuesday 18 February LOCAL
GENERAL SALES: 10am Tuesday 18 February LOCAL
SIGN UP FOR PRESALE ACCESS:
THU 30 APR
FORTITUDE MUSIC HALL BRISBANE
WED 06 MAY
ENMORE THEATRE SYDNEY
FRI 15 MAY
FORUM MELBOURNE